Blackwater Gold Camp,
South of Vanderhoof, Central BC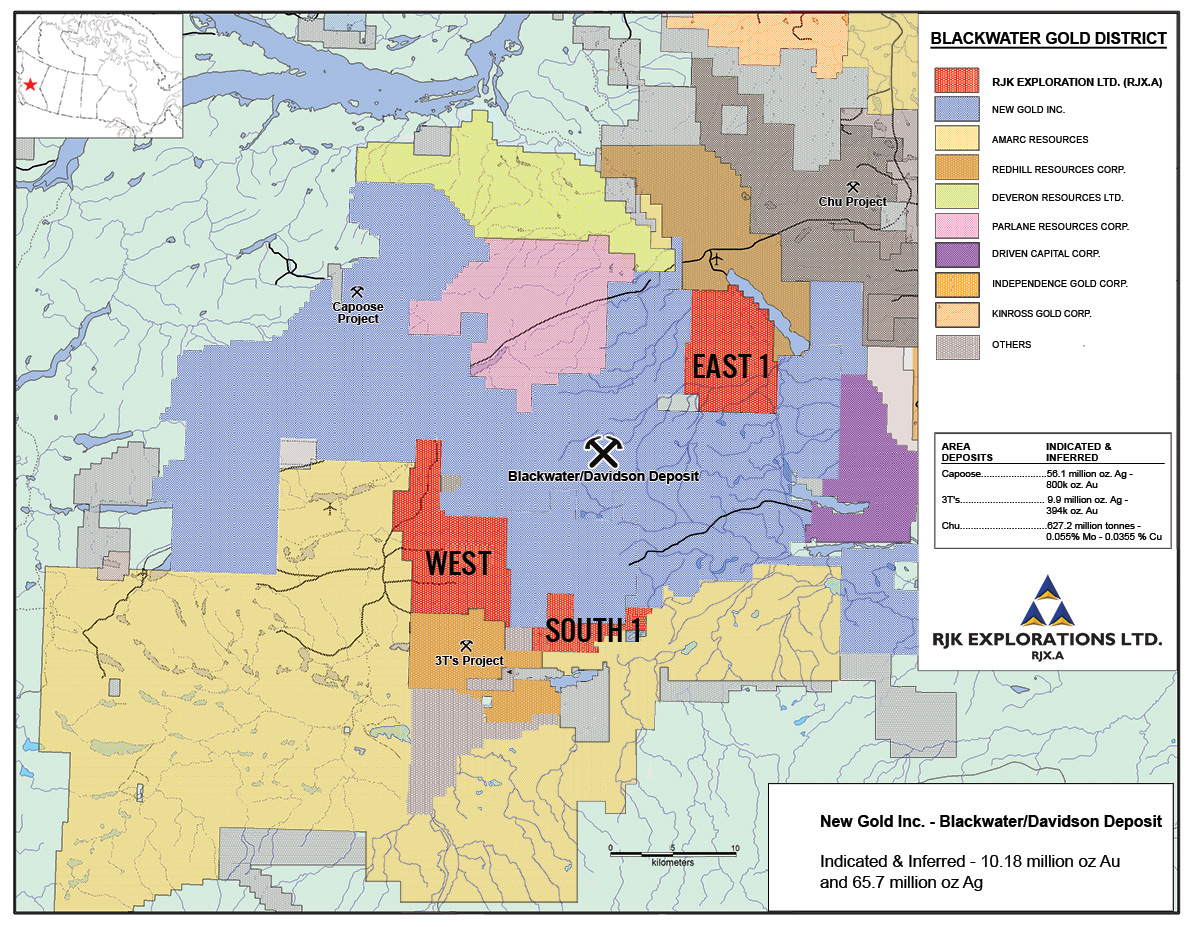 BLACKWATER GOLD CAMP, SOUTH OF VANDERHOOF, CENTRAL BC
In September of 2009, Richfield Ventures (RVC) ignited a staking rush on the Nechako Plateau, south of Vanderhoof in Central B.C., when they announced a drill intersection of 207m of 1.06 g/t Au and 5 g/t Ag. All during 2010 and into 2011, Richfield continued to announce similar long intersections of better than 1 g/t Au and expanded the deposit to approximately 4 million ounces gold.
Then, in April of 2011, New Gold Inc. (NGD) announced an offer to acquire Richfield in a deal valued at $550 million. On October 17, 2011, New Gold consolidated control over a larger portion of the Blackwater Gold Camp by acquiring Silver Quest Resources for $131 million and Geo Minerals for $14.5 million. Within the Silver Quest property was the Capoose silver/gold deposit.
On March 22, 2012, New Gold announced the acquisition of a 100% interest in the 23,000 hectare Auro and Auro South claims held by Gold Reach Resources Ltd. for $6 million. Gold Reach retained a 2% NSR and New Gold committed to spend $1.5 million on exploration over 3 years.
Since then New Gold Inc. has continued to advance the project and is currently in the permitting stage.
The resource figures released by New Gold are:
Category
Blackwater
Capoose
Measured and Indicated
Resources
Gold
7.52 million ounces
0.4 million ounces
Silver
36.9 million ounces
26.6 million ounces

Inferred Resources

Gold
2.66 million ounces
0.4 million ounces
Silver
28.3 million ounces
29.5 million ounces
RJK Explorations Ltd. Blackwater Gold Camp
RJK Explorations Ltd. (RJX.A) acquired two large claim groups, "Blackwater West" and "Blackwater East", in December of 2010. These two claim groups are contiguous to both the western and eastern boundaries respectively of the New Gold Blackwater claim group. RJK completed a heli-borne magnetic and electromagnetic survey of both claim groups in late 2010/early 2011.
During August of 2011, RJK completed a helicopter-borne ZTEM geophysical survey on all of the claim groups. RJK also conducted a mapping, sampling and prospecting exploration program on the claim groups.
In September of 2011, RJK acquired the Blackwater Northeast claims, which tied on to the western boundary of the Blackwater East claims and are integrated into the Blackwater East claim group.
In October of 2011, RJK completed line cutting and a 2D IP survey over a number of target areas that were identified on the Blackwater East and Northeast claim groups by all the previous exploration work.
RJK then applied for drilling permits on the Blackwater East claim group in order to follow up on all this geophysical exploration as there is virtually no outcrop on the entire claim group. Initial drilling allowed RJK to attribute the data from the various anomalies to specific geology. There were 9 initial target areas to be tested, with the first drilling being conducted in March, 2012. RJK was able to drill a number of holes on the initial target areas. Even though drill core in several of the holes indicated favorable geology, no economic values were present in this initial drill core. RJK is evaluating the results to plan for further exploration as these drill holes were widely dispersed on only some of the target areas within what is a very large claim block. These initial drill holes were all within the western third of the property, leaving two thirds yet to receive follow-up exploration and drilling.
RJK then conducted detailed geophysical surveys, sampling and prospecting on the Blackwater West claim group in June, 2012 with the objective of defining several initial drill targets. In October, 2012, RJK plotted 6 drill holes along a grid over a large anomaly that was discovered on the southern portion of the claim block. After the first hole was drilled, the Mining Ministry representative in Prince George expressed concern over a number of environmental issues and the drill hole locations which led to RJK having to stop drilling operations. After conducting an environmental survey which satisfied the Ministry, RJK resumed drilling but was only able to drill two more holes… one on the far west side of the grid line and one on the east side of the grid line without being able to drill on the actual anomaly because RJK then had to stop drilling to comply with the Ungulate Grazing Season.
RJK has decided to delay any further work on the Blackwater Gold claim groups as the market is not receptive to funding further work in this area. New Gold Inc. is devoting most of their attention to their Rainy River acquisition and putting that deposit into production in 2017. Since RJK has completed substantial exploration work on the all their Blackwater claim groups, assessment work has extended the claims until 2023 before any further work would be required. RJK will redirect its exploration energies back to their Blackwater properties when the market is more receptive to the entire Blackwater Gold Camp.